Welcome to ARNE & CARLOS' Knitting under the Aurora Borealis!
It is with great pleasure we welcome you to Norway for our knitting cruise onboard the beautiful new ship MS Havila Capella! Join us for the cruise 'Knitting under the Aurora Borealis!' This eventful tour will take you to the capital Oslo for a two-day pre-cruise program, before taking the train over the scenic mountains westbound to Bergen, where the cruise starts and ends after the classic roundtrip along the coast.
We are especially delighted to introduce you to Havila Voyages which is a Norwegian shipping company which sails the classic coastal voyage between Bergen and Kirkenes, with the Norwegian coast's most environmentally friendly ships. The new ships are loaded with the world's largest battery pack, and for four hours they can sail without noise or emissions through vulnerable fjords. The batteries are charged with clean hydropower at the shore, and when the batteries are low they switch to natural gas which cuts CO2 by around 25%. Excess heat from cooling water and sea is used for heating on board. On the menu are locally made dishes from local producers, and all unnecessary plastic is avoided.
The Latin name for the Northern Lights is the Aurora Borealis. February is a perfect month to do 'the world's most beautiful sea voyage' and to experience the mythical Northern Lights. Although science today has revealed many of the secrets of the Northern Lights, we still allow ourselves to be captivated by the mystery of the sky's own fireworks. In earlier days, the Northern Lights were the basis of many myths and superstitions. To see the Northern Lights, there must be dark, clear skies. The Northern Lights are seen in the winter but most frequently in winter, late autumn and early spring. February is a very good month to experience this phenomenon, since it is quite dark, also during the day. A few hours before and around midnight, the Northern Lights are seen most frequently and at their most intense.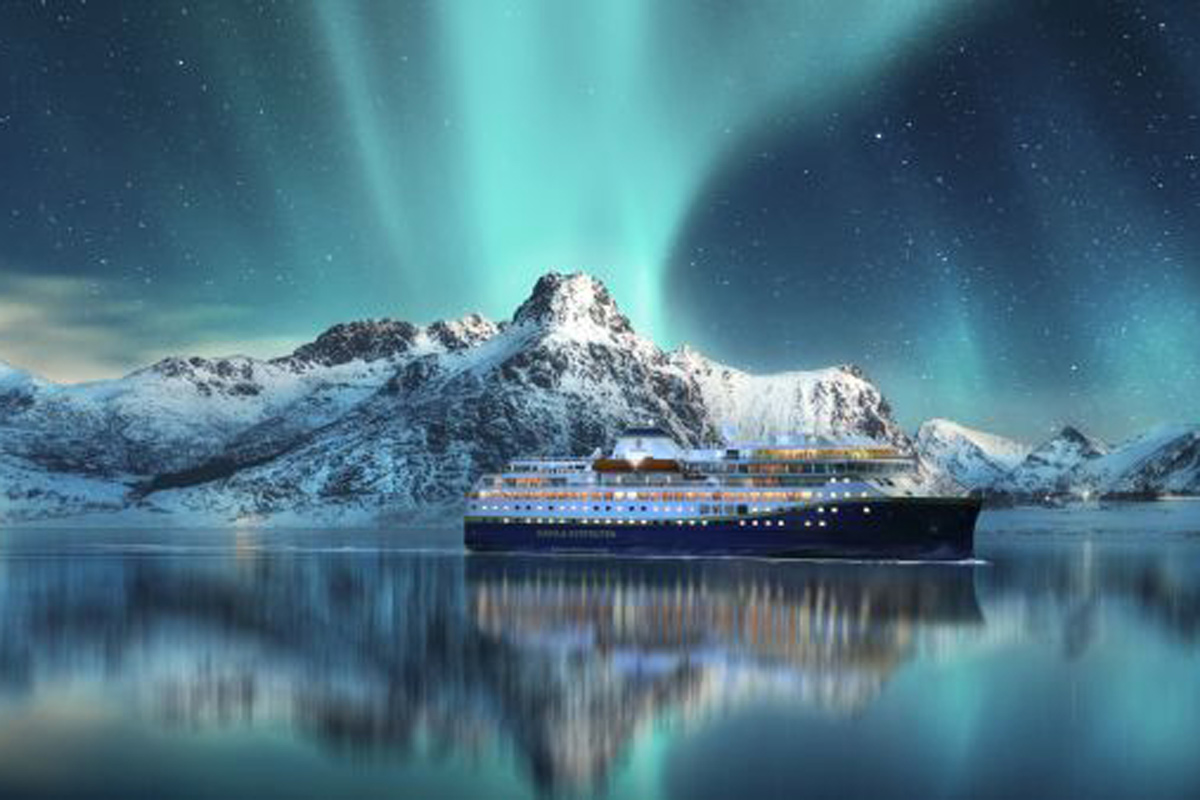 The cruise will take us to 34 ports along the Norwegian coast, some port of calls are short, some longer. Havila is commissioned by the Norwegian government to serve the population and communities along the coast with ferry service, mail, cargo and other supplies, which means the ship is a working ship as well as a cruise ship carrying tourists. This will give you an interesting experience of the local life along the coast.
During the cruise, you will enjoy the company of your hosts ARNE & CARLOS, attend their interesting lectures and take part in the exciting mystery knitalong! The trip of a lifetime – you don't want to miss this opportunity!